A Free PHP web page Counter Script That tracks page names and views. [Ver 1.0 Aug 22 2002]
Features fully automated page counting through the php.ini auto prepend or by an include call.
Features easy Installation, Implementation, Administration.
(There's one at the top of this page.)
Download Below
---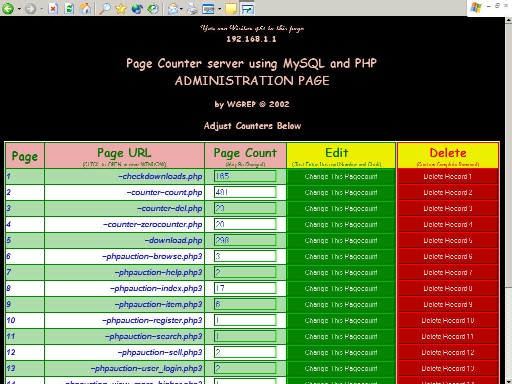 If You Find Either of These Scripts Useful, and Would Like to Make a Donation Through PayPal to Help Defray Expenses, Click Below. Any Amount Appreciated, Thank You.
Choose a Version Below.
---
Downloaded 17646 times; 11640 Unique.
---
You are Visitor






to this page
Downloaded 8756 times; 5401 Unique.
---

---
Screenshot Of  Admin Click here to see a screenshot
(count.php) of the NEW Magnum version.
It's Here Now! Download the Beta in the Demo Admin Section
To Try A Live Administration Demo of the Magnum Version And Download the beta

Click Here
---
Changes:
1) 8/25/2002 Changed Admin Page. Looks better now.
2) 12/14/2003 Added Graphical Version as per requests.
3) 01/13/2004 Made Magnum Edition Available as GPL Download.
4) 03/24/2004 Added Ability to Accept Donations Through PayPal.
---

---
##############################################
###### PHP Page Counter For PHP & MySQL ########
########      © by Wayne Baughan. 2002          ########
##########      wgrep@wgrep.com           ############
##############################################